Well, I am getting closer to convincing Mark to move. I am sure it is going to take at least a year but we are going to work on updating some of the house.
I spent the day cleaning out what we call "my room", this is because my bedroom furniture is in there from before we met. I had so many bins of
stuff
in there it was out of control! I ended up with 2 contractor bags filled with stuff to donate, 1 contractor bag full of garbage, and a garbage bag full of stuff to put in a garage sale. Eliza had a great time playing while I cleaned. I was even able to clean out a storage organizer tower thingy and put away almost all of my craft stuff, that is huge! The room isn't finished but it is definitely close. Hopefully this weekend it will be livable, and not completely embarrassed when someone sleeps in there.
In discussing what sells a house we know we need to update our bathroom. It is super outdated, and just blah. There are 4 different finished on the fixtures and the paint job I slopped on is terrible. The linoleum floor is pulling up and the moldings need to be re-caulked. Hopefully this weekend we will make a trip to Lowes and pick up a few things. All I want to do is paint, tile the floor, new light fixture and new mirror. Hopefully that will be enough of an update for new owners, they can put in granite if they want. Mark would like to put in a jacuzzi tub vs our regular tub but I just don't see that cost being recouped.
The kitchen is close to being done, I think the floor is the only thing to be done, hopefully this year we will do that.
It is all a work in progress, it is just frustrating to spend money just to get it to sell!
Here is some of my inspiration: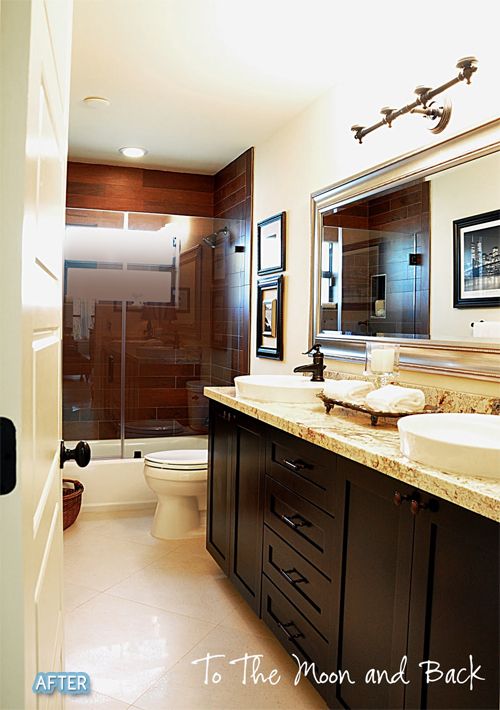 I hope everyone has a good weekend. This week I will have a recipe/review for Tutorial Tuesday. Just for fun, here is the latest of our little Monka(when she was born the first thing I called her was monkey, no clue why never called her that, and it somehow turned into Monka.)
Her new smile, and hair do!