I am so excited for another giveaway. I am so thankful for all of the companies who want to help us celebrate our
Little Bug
!!
This weeks giveaway comes from
Lil Light O' Mine
. I absolutely LOVE following Courtney. I follow her on
Facebook
,
Twitter
and her
blog
. She always has the most uplifting stories and messages and gives me hope as a mom and Christ follower. I have mentioned this AWESOME company in the
past
.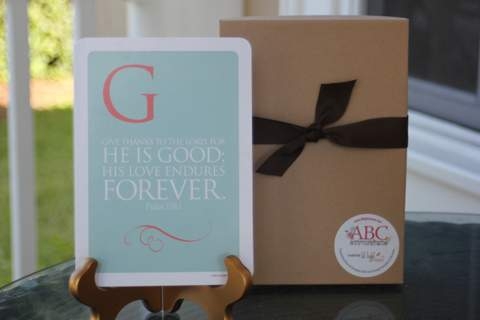 When we started to pack to move I packed up all of Eliza's room, including the scripture cards. For days she cried asking for her "specials". Mark and I had no clue what she meant, but then one day she said "up there" pointing to where her shelf used to be, "my 'N'". She was asking for her scripture cards back. I am happy to say they are back and I have a happy little girl again. They will be making the trip to the condo with us to be in her temporary room as well. I absolutely love these cards. I love that Eliza learns her ABC's and scripture at the same time! We have given these as gifts and donated a set to our
nursery at Church
.
So lets get to the good stuff!
Courtney
has so GRACIOUSLY offered a set of
ABC Scripture Cards
to one of my readers! These might even look familiar to some of you, they were recently featured on THE VIEW!! How exciting for Courtney!! You can see the segment
here
.
Just like last week, all you have to do is use Rafflecopter below to enter.
You must be a U.S. resident who is 18 years or older to win. I will be contacting the winner following the 6/14/13 close date and the winner will have 24 hours to respond to their email. Lil Light O' Mine will then provide the winner with their set of scripture cards.
a Rafflecopter giveaway